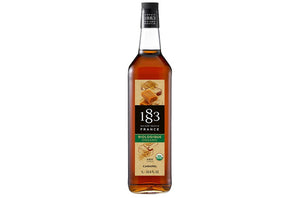 With sweet, aromatic notes of classic caramel, Organic Caramel 1883 syrup opens with intense notes of butter, vanilla and caramelised sugar, developing into a full-bodied and perfectly balanced flavour. Organic Caramel 1883 syrup is made from carefully selected organic ingredients including organic cane sugar and our secret ingredient, pure Alpine water.
INGREDIENTS: 100% cane sugar* and pure water from the French Alps, lemon juice from concentrate*, natural flavor, aromatic caramel* (sugar*, water).
*Ingredients resulting from the organic farming.
33.8 fl oz

Pump not included. Click here to order pumps separately