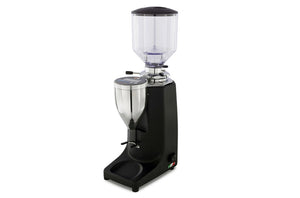 Q13 is an electronic on-demand coffee grinder with a user-friendly touch-screen display and touch-sensitive keypad. No keys or mechanical switches that might shorten its life. Its 75 mm flat blades can produce up to 6 kg or 13.2 lbs of ground espresso daily, which makes it ideal for cafeterias and artisan coffee shops with high daily coffee consumption. This grinder with dispenser has 3 electronic measuring options, features a reset-proof counter and grinding size micro-adjustment. User-friendly programming, user interface in 7 languages. Q13 can be equipped with the following optional equipment: 500 g or 1.5 kg hopper.
Burrs: flat type Ø 75 mm with food friendly processing
Voltage, power: 110V - 50/60 Hz, 380 W
R.P.M.: 1600/min (60Hz)
Suggested daily production: up to 13 lbs
Dose system: Automatic or manual setting for single, double or triple dose
Grinding adjustment: Stepless micrometric system
Material: aluminum body
Standard hopper capacity: 1200 g
Net weight: 35.2 lbs
Dimensions: approx. 7.8 x 12.5 x 25"


**CALL FOR PRICING**