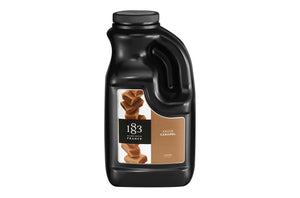 With its intense and authentic taste of caramel, Caramel Sauce 1883 develops subtle notes of butter and toasted brown sugar. With its powerful flavor, this sublime sauce makes the perfect garnish for hot and cold beverages, smoothies and milkshakes, dessert toppings or other culinary applications.
Pump not included. Click here to order pumps separately
64 oz

Ingredients: Glucose Syrup, Sugar, Water, Sweetened Condensed Nonfat Milk, Caramel (9%), Salt, Artificial Flavor, Natural Flavor, Gelling Agent: Pectin, Acidifier: Tartaric Acid, Emulsifier: Soy Lecithin, Preservative: Potassium Sorbate.