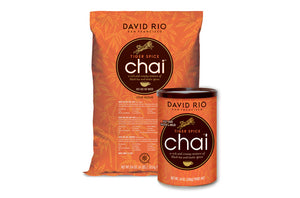 David Rio's signature and award winning chai is a rich and creamy mixture of black tea and premium spices, including cinnamon, cardamom, and clove.
WE STAND WITH TIGERS

David Rio has maintained partnerships with local, regional, and international animal welfare organizations since 1996. 
The International Fund for Animal Welfare's (IFAW) tiger campaign aims to protect tigers in the wild, working on the front lines to combat poaching, end all trade in tiger body parts and products, secure vital habitat, and raise awareness about tigers and the threats they face.
David Rio is proud to be donating annually to the International Fund for Animal Welfare (www.ifaw.org) to Save the Last Tigers.  In 2011, David Rio's donations helped IFAW alert Chinese authorities to the illegal trade of tiger bone wine at an auction house in Beijing, prompting the Chinese government to stop the sale. Donations to IFAW continue to support the rescue and rehabilitation of orphaned tigers while providing them with the best natural resources and getting them safely back into the wild. After their release into the wild, IFAW uses satellite technology to ensure they are successfully re-acclimating into the wild