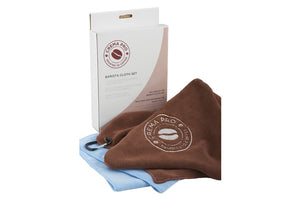 Crema Pro Barista Cloths are premium quality microfiber to assist the barista in maintaining complete cleanliness of the espresso machine & its surroundings.The set includes:

Microfiber Cloth (Brown) with a Barista Clip: Designed to thoroughly clean the group handles and filters. The rectangular shaped cloth clips to the barista's belt for easy accessibility.

Microfiber (Blue) Steam Wand Cloth: Designed to completely clean the steam wand of milk residue. For best results use with a damp cloth.