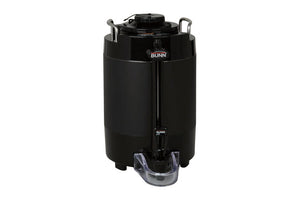 The Bunn TF 1.5 gallon ThermoFresh black coffee server features a patented Safety-Fresh brew-through lid, which allows you to brew one gallon of coffee directly into the server. The server is vacuum sealed to keep your coffee hot and fresh for hours, and it is stainless steel lined to facilitate easy cleaning.
Because the Bunn TF ThermoFresh black coffee server is not attached to a base, you can dispense coffee into any sized container, such as decanters, thermal carafes, or even coffee to go take out boxes. Top-mounted handles provide easy transport to self service stations or server areas.
An easy-to-read fill gauge is located on the front of the server, so you'll always know when it's time to brew another batch. 
**CALL FOR PRICING**