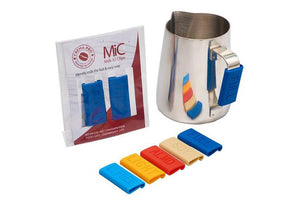 The MiC is the latest addition to the Crema Pro® range and is an essential commercial barista tool. Fitting most commercial stainless or Teflon milk jugs, the MiC is currently being used in an extreme high volume coffee retail environment, allowing easy identification of milk types.
Color coding for 5 different milk types: Full Cream, Light, Lactose Free, Soy and Almond. 
Elimination of waste and cross contamination. 
Suitable for large or small coffee retailers. 
Food grade and dishwasher safe.
Easy and clear identification for baristas.
Available in packs of two.