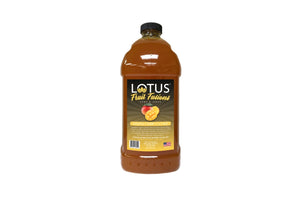 Pump NOT included. Click here to order pumps separately
MADE WITH REAL FRUIT
Our dual purpose fruit bases are shelf stable made with real fruit to upsell Flavored Energy Drinks, Fruit Smoothies, Lemonade and Tea. 
EASY & VERSATILE
Lotus Fruit Fusion can be enjoyed alone, used to create spectacular smoothies, or energized with our Lotus Energy Concentrate.
EXPAND YOUR MENU APPEAL
Guests can personalize drinks with their favorite fruit flavors. Use Fruit Fusions to create innovative drinks that command premium pricing!
FLAVORFUL CHOICES
10 flavors available: Mango Passion, Strawberry, Peach, Pina Colada, Power Punch, Watermelon, Pomegranate, Guava Colata and Wild Berry
PRODUCT FACTS
- 1 jug = 1/2 gallon / 64oz / 1.89L
- 1 + 3 mix (1 part concentrate + 3 parts water)
- Each jug creates 2gal finished product
- Made in the USA
Weight: 6 lbs