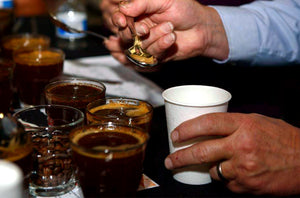 This is the process developed in the coffee world to critically analyze a coffee, usually to purchase or profile. Our public cupping is designed for enthusiasts of all levels. We'll lead you through this interesting and informative ritual and help develop a deeper understanding of what a roaster is looking for in coffee. 

Terms: Payment is made in advance of the class. Cancellation is allowed up to 48 hours prior to the commencement of the class. If you are more than fifteen minutes late, reservations will considered forfeited and participants will not be eligible for a refund.

CLASSES WILL BE SCHEDULED SOON!
Duration: 1 Hour
Cost: $15 per person, which includes a sample of each coffee cupped to take home
Space is limited. Reserve your spot now!